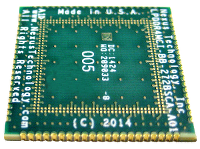 Nexus Technology's patent pending EdgeProbe™ technology enables our interposers to be virtually the same size as the memory component. This is important because standard direct-attach interposers are significantly larger than the memory component which can potentially cause mechanical clearance problems. In other words, standard direct-attach interposers do not fit in all applications. EdgeProbe™ interposers fit in all applications.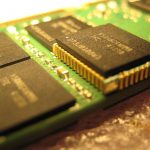 EdgeProbe™  interposers provide advanced analysis capabilities by integrating the oscilloscope probe in to the interposer itself. In doing so, the probe point moves extremely close to the component pad which is the optimal and least intrusive location.
Soldering on the Scope Probe Tip
Traditional interposers have pads for oscilloscope probe tips to solder to. EdgeProbe™, interposers provide a cutout that the tip wire can easily fit in to.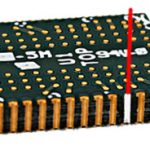 Use with Existing Embedded Designs, DIMMs, or SoCs

A small mechanical footprint means no need to change existing designs.
Simply add the interposer to your embedded target, DIMM or SoC with no re-design or designed in target probe points.